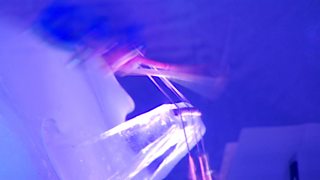 The ice cello and other amazing orchestras
This is one instrument which is definitely NOT too hot to handle.
A cello made entirely of ice!
This video is the first ever concert of the N-Ice Cello project and was held at the Natural Science of Trento in Italy.
Giovanni Sollima played the ice cello inside a bubble inflated with cold air, at a constant temperature of -8° Celsius, while in the lobby of the museum the heating was turned off, and the audience attended the concert at a temperature around 15° Celsius.
Brrrr!
And after it's last concert it, the cello will melt, returning to it`s liquid state and will be thrown into the water of the Mediterranean Sea.