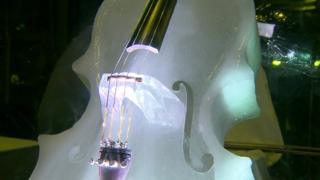 Evn
A music festival has taken place where the instruments and venue are made of ice.
It's in the Norwegian village of Finse and the BBC Travel Show went along.
Ice drums, ice horns and even a didgeridoo are all carved on the day so they don't melt.
Amazing!
Take at look at some other inspiring instruments, and extraordinary bands!
Playing drums on office equipment
Meet professional percussionist Delia Stevens.
She's become well known for playing some pretty unusual instruments.
A few years ago at the RHS Tatton Flower Show in Cheshire, Delia performed music using office equipment!
Yep, she brought a typewriter, some scissors, a stapler, tape and a mug into a BBC radio studio to perform a special piece.
Have a watch, and a listen. It just goes to show you can make music from anything.
Healthy tunes
These guys are making music with food! And they have a great name.
On the day they were formed, the Carrot Get Enough Orchestra played Glastonbury, appeared on BBC Radio and had been booked to play another major festival.
Led by Finnish musician Vicky O'Neon, they will serenade you with their vegetable version of pop songs.
Just like the melting orchestra, these instruments are also biodegradable!
Robot recitals
And it's not just humans who can play instruments.
Have a listen to this orchestra where many of the instruments are played by robots.
This special group was put together in 2014 for a special performance at the Royal Institution Christmas Lectures.
As well as human musicians playing instruments you can see robots playing guitars, pianos and even a theremin!
But can you spot theme tune they're playing?
Ice cello
This is one instrument which is definitely NOT too hot to handle.
A cello made entirely of ice!
This video is the first ever concert of the N-Ice Cello project and was held at the Natural Science of Trento in Italy.
Giovanni Sollima played the ice cello inside a bubble inflated with cold air, at a constant temperature of -8C, while in the lobby of the museum the heating was turned off, and the audience attended the concert at a temperature around 15C.
Brrrr!
And after the final concert the cello will melt, returning to its liquid state and the water will be thrown into the Mediterranean Sea.