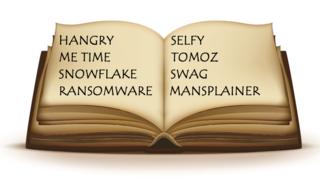 Getty Images
None of us like being 'hangry', on the receiving end of a 'mansplainer', or having your phone or computer taken over by 'ransomware'.
You wouldn't be very happy if someone - how dare they! - called you a 'snowflake' for being upset.
You might have no idea what we're talking about.... but don't worry.
You can now look these words (and a few others) up in the new Oxford English Dictionary.
Every few months the people in charge of the dictionary talk to experts about what new words should be added.
They decide based on words lots of us are using.
And we've obviously all been using lots of new words, as they have just added 1,000 new ones!
So what are they? Here's a few of our favourites...
Hangry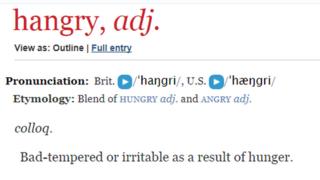 Oxford English Dictionary
Maybe you haven't had time for breakfast, or you're just pretty peckish after rushing around in PE.
But you're so hungry it's making you angry. It happens to the best of us.
Selfy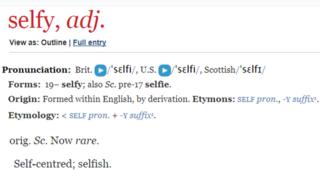 Oxford English Dictonary
We all know what a 'selfie' is. Most of us spend more time than we'd like to admit snapping photos of ourselves with our front camera.
The better known meaning, with an 'ie' ending, has been in the dictionary since 2014.
But have you ever been a bit 'selfy'? It dates to the 17th century as a Scottish word meaning 'self-centred' or 'selfish'.
Me time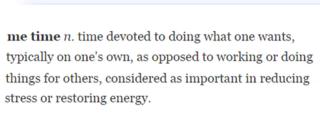 Oxford English Dictionary
Is it 'selfy' to have some 'me time' every so often?
Maybe sometimes, but often it's good to take time out to do the things you enjoy, so don't feel too bad about it.
Tomoz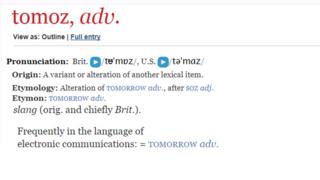 Oxford English Dictionary
Have you ever written this in school and your teacher's told you 'tomoz' isn't a proper word?
Maybe show them this entry in the dictionary next time. It is now!
The abbreviation of tomorrow isn't really proper use of English, but it seems so many people are using it and know what it means, it's made it into the dictionary.
Snowflake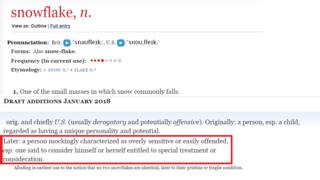 Oxford English Dictionary
We all know what an actual snowflake is. So what are all these other new meanings about?
Well if someone called you a 'snowflake' a few years ago, it would have been a good thing - meaning you were unique.
But now it's something you wouldn't want someone to say about you, meaning that you're a bit too sensitive about things, and maybe even a bit 'selfy'.
Swag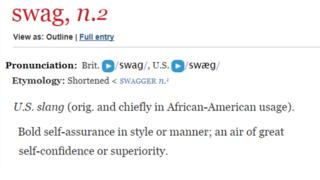 Oxford English Dictionary
You know when someone's got 'swag'. But it's the kind of thing that's hard to sum up in words.
This is how the Oxford English Dictionary have defined it.
But do you need to have 'swag' or have 'swagger'? That's the real question...
Ransomware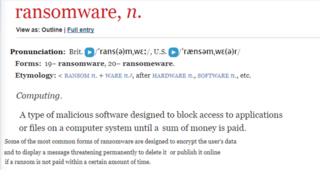 Oxford English Dictionary
Warning messages flashing up on your screen telling you your device has been infected or taken over!
It's something we definitely don't want to happen.
But unfortunately it's happening to more of us, as hackers and viruses get more complex.
This means we're using the word to describe this - 'ransomware' - more than ever.
Mansplainer

Oxford English Dictionary
If you do somehow end up with ransomware on your phone or computer, the last thing you want is someone 'mansplaining' to you about it.
This means someone isn't talking to you in a very respectful way, and might even be treating you like you're not as clever as they are.
It's enough to make you want to some 'me time'.
New words are added to the dictionary four times a year, with the next update due in April 2018. So if you've got a word you'd like to see in the dictionary keep an eye out.
Maybe it'll be there next time!