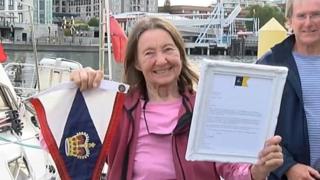 AFP/Chek News
A 77-year-old woman has become the oldest person to sail around the world solo and non-stop.
Jeanne Socrates from Hampshire set a new world record with the 320-day voyage on a yacht which ended in Canada.
It's not the first time an older athlete has given age the cold shoulder, though. Read on for some more of our favourites!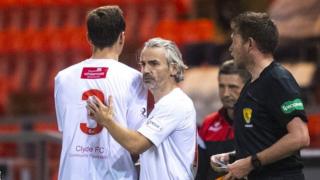 SNS
Fifty-year-old football manager Danny Lennon jumped in to help his team, Clyde, win against the Celtic Colts in the Glasgow Cup in August.
Danny's last game as a professional player was in 2008, so when he decided to sub himself on during the match it caused quite a stir.
The footy boss came on in the 76th minute to help his team to a 3-1 victory.
Talking about his first game in 11 years, he said: "I felt that I handled it no problem. I look after myself. I'm in the gym every day - sometimes twice - and I think it's just a bit of mind over matter."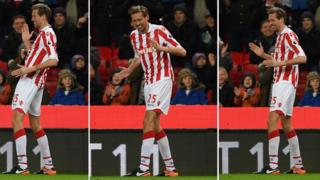 Getty Images
Peter Crouch announced his retirement in July, ending his playing career aged 38, after more than 21 years as a professional!
On transfer deadline day in January, the former England striker made a surprise move from Championship side Stoke City to Premier League side Burnley.
But he is now finally hanging up his boots after representing no fewer that 11 clubs and earning 42 England caps.
Crouch is old for a footballer, but he's a baby compared to Kazuyoshi Miura. The Japanese striker signed a new deal in January 2019 at the impressive age of 51.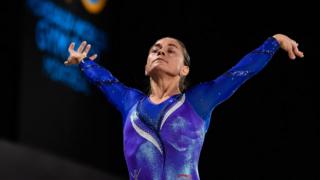 Getty Images
Almost three times as old as some of her competitors at the 2018 Gymnastic World Championships, Oksana Chusovitina continues to rewrite sporting history.
Being aged 43 might not seem that old, but in the physical world of gymnastics, this seven-time Olympian is older than many of her competitors.
Chusovitina had wanted to retire in her late 20s, but her three-year-old son Alisher was diagnosed with Leukaemia. It meant she had to continue to compete so that she could afford his treatment.
There is a happy ending to this story too, as five years later, Alisher was cured and mum Oksana won her first Olympic medal in Beijing 2008.
Chusovitina did eventually retire after the London Olympics in 2012, but her decision lasted 12 hours before she changed her mind!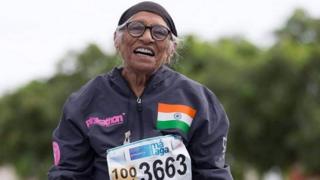 Milind Usha Soman/Twitter
Aged 102 years old, Mann Kaur can't stop winning medals.
India's oldest female athlete has already broken records and won lots of gold medals in athletics competitions for those over 100 years of age.
Her latest victory came at the World Masters Athletics Championships in Spain, where she won gold in the 200m event.
Believe it or not, Mann only began her sporting career at the age of 93, and shows no signs of stopping even at 102!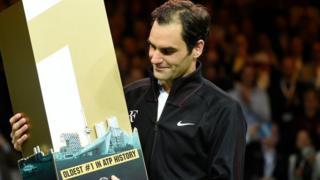 Getty Images
At 38, Roger Federer is still at the top of his game, set and match.
You only had to watch the nail-biting 2019 Wimbledon men's final to know that.
The current world number 3 is old enough to be the dad of some of the other players on the men's tour, but he's still beating them.
Federer won the Australian Open in January 201, which was his 20th Grand Slam title.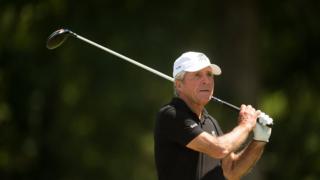 Getty Images
This guy is old enough to be Federer's and Chusovitina's granddad!
At 83 years old, Gary Player continues to play on the men's professional circuit, proving himself as the ultimate golf 'Player'.
According to Gary, a key part of his success is his fitness routine, which apparently involves 1,300 sit-ups a day!
Gary says he'll carrying on playing golf until he's 90. It's surprising he actually has any time to practice golf with all that gym work!
Sister Madonna Buder AKA the 'Iron Nun'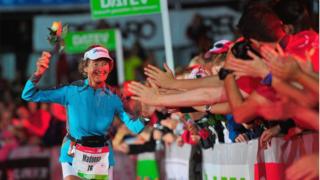 Getty Images
She's the nun who loves to run - even at the age of 89!
Sister Madonna Buder competes in triathlons - but not just any triathlons. She competes in especially tough Ironman Triathlons! That means a 3.86 km swim, a 180.25 km bicycle ride and a 42.20 km run - all of which has to be completed in under 17 hours.
Seven years ago, at the age of 82, Sister Madonna became the record holder in the 80-plus Ironman category, by completing the course in 16 hours and 32 minutes.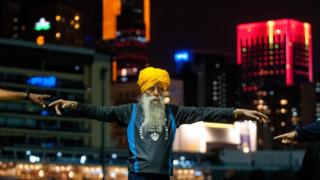 Getty Images
Fauja was 101 years old when he finished the Hong Kong Marathon 10km event in one hour and 32 minutes.
Singh was awarded the British Empire Medal in the 2015 New Year Honours for services to sport and charity.
Nicknamed the 'Sikh Superman' and born in 1911, Fauja Singh is now 108 years old!