Getty Images
Over the next month and a half some of the top international men's and women's rugby teams will fight it out in the Six Nations championships. England, Ireland, Wales and Scotland are in the competition, as well as France and Italy.
So fasten your seat belts and prepare to see tries, scrums, tackles and lots of muddy players. Some dreams will come true, but others will be shattered...
Here's Newsround's guide to what to look out for!
Power player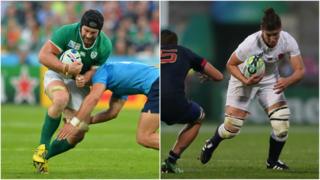 Getty Images
Sarah Hunter - The England captain, with 101 caps to her name, is widely considered to be one of the best players in the world. Generally playing in the number 8 position, Hunter is a powerful runner.
Sean O'Brien - One person no one wants to bump into, because they will go backwards very quickly. The Irish player is out of action for the first two rounds, but he'll be sure to make an impact later on in the tournament.
Did you know?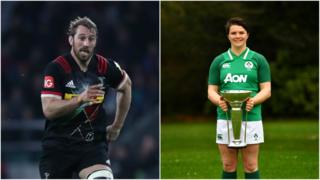 Getty Images
Ciara Griffin - The Irish captain, is also a teacher and a beef farmer. Taking multi-tasking to a whole new level! Her former primary school class sent her cards with good luck messages in the shape of rugby balls.
Chris Robshaw - The former England captain co-owns a restaurant. Judging by the size of him, he needs his own restaurant to cope with all the food he needs to eat!
Up and coming player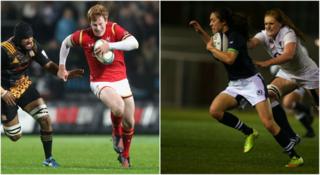 Getty Images
Rhys Patchell - Injuries to both Wales' first choice fly halves means, means 24-year-old Patchell will kick off his country's campaign in the key position. The Scarlets player has however played for his country previously and with a deadly accurate kicking game and a sharp turn of pace, he could be set to make a name for himself on the international stage!
Rhona Lloyd - The Scottish winger has just burst onto the international scene and is tipped for success. Lloyd is seriously fast too, finishing in the top 100 in the UK in the 60 metre sprint.
Wise Owl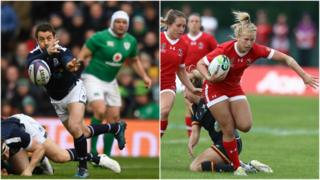 Getty Images
Greig Laidlaw has led his country a record 31 times and will spear-head Scotland's quest for glory this winter. With his razor sharp passing and accurate goal kicking, he forms the bedrock of the Scottish team.
With 44 caps, Elinor Snowsill is the most capped player in the current Welsh squad. Playing in the important role of fly-half, she is also a crucial part of Wales' 7's team.
Out of nowhere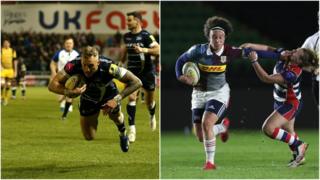 Getty Images
Byron McGuigan - Born in Namibia, he qualified to play for Scotland through his Glaswegian mother. For a while it looked like he'd never hit the big time for the national side but since joining Sale Sharks he has revitalised his career. Scoring 2 tries on his Scotland debut against Australia in the autumn, McGuigan could prove a point this tournament.
Shaunagh Brown - A few years ago Brown had not played much rugby. Although she had represented England in the discus, shot putt and hammer. She even competed at the 2014 Commonwealth Games in Glasgow! She's now making a splash in the rugby world.
Behind the scenes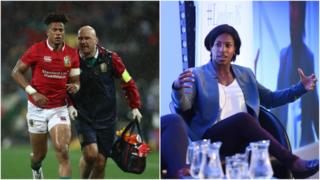 Getty Images
Head Injuries - The governing body which runs international rugby says it is continuing to try to improve safety standards in the game.
Expect to see lots of players going off for head injury assessments and severe punishments dished out by referees for dangerous play.
Women's funding - There was a strong backlash to the announcement that not all of the England players would automatically keep their jobs after the World Cup this year.
The issue of funding in the women's game has come up again as Ireland announced they were only looking to recruit a head coach for a period of half a year. Former players like Maggie Alphonsi have called for more investment into women's rugby.