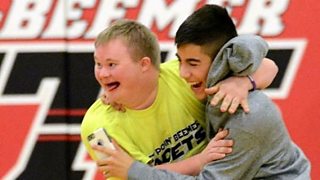 Teen's half court trick shot goes viral!
James Meiergerd has Downs syndrome and normally competes in wrestling.
Now the eighteen-year-old from Nebraska is also a world-famous basketball star after the video of his amazing shot went viral.
It all happened during half-time at a game between his school's team, the Cadets, and their local rivals.
The world famous Harlem Globetrotters were so impressed they invited him along to one of their games.
James also takes part in the Special Olympics, sharing what he's up to on his Facebook page 'Winner with Down Syndrome'.