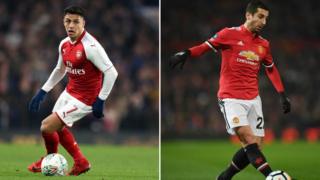 Getty Images
The whole Alexis Sanchez transfer saga has definitely been the biggest story of this winter transfer window.
Initially there were rumours he'd be heading to Man City, but recently it became clear Man United planned to swap Henrikh Mkhitaryan for Arsenal striker Sanchez.
The deal is very likely to go ahead - but crucially hasn't been completed yet!
Sanchez and Mkhitaryan will have medical examinations on Sunday and Monday before anything is signed.
But this hasn't stopped some United fans starting the celebrations! Some unofficial Sanchez scarves were apparently already on sale at Old Trafford yesterday.
Leicester City started selling 'Premier League Champions' scarves back in 2016, with six games left to play before they took the title. Thankfully for them they succeeded, and all was well.
Hopefully these United fans will get away with it too.
But others fans and players who've celebrated prematurely haven't always been so lucky!
1. When you plan a victory parade ...and then don't win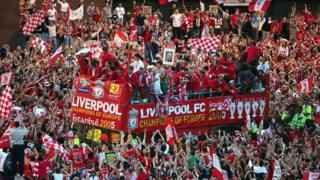 Getty Images
If there's one thing more embarrassing than celebrating a title you haven't won with a scarf, it's celebrating it with a giant bus!
Back in 2007 Liverpool were so confident of beating AC Milan for the Champions League trophy, they bought a bus with 'Champions of Europe' written on the side of it.
But then didn't win. AC Milan took the title, and the bus was never seen again.
2. When you forget you've still got a lap to go!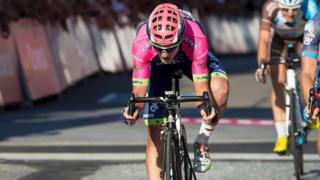 Getty Images
A lot of us felt a bit sorry for Slovenian cyclist Luka Pibernik at this particular moment
He was leading in Stage 5 of the Giro D'Italia, but it was his maths skills rather than his cycling that let him down.
He thought he'd won, throwing up his arms to celebrate "victory"...only to realise he still had a lap to go.
3. When you celebrate saving a goal...and then it goes into the net!
He thought it was all over! To be fair to this Thai goalie it really doesn't look like there is any chance this goal was going in!
It hits the cross bar, and given the teams were tied 19-19 in a penalty shoot out, he's understandably relieved.
But as he ran back towards his teammates celebrating, the ball came down to earth and spun into the unguarded net.
It's been called one of the most ridiculous penalties ever!
4. When you get a celebration tattoo...and your team don't even qualify!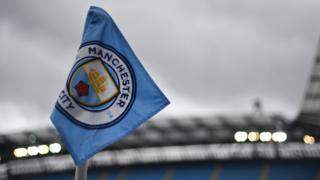 Getty Images
Man City fan Kirk Bradley was challenged by a friend to get a 'Manchester City 2011 Champions League Winners', tattoo.
Sadly for him City failed to even qualify for the competition. Maybe if they win this year he can get the number '2011' changed to a '2018'.
One man who would probably sympathise, is US basketball fan Rock Wright. He was convinced of not only a win, but a 40-0 scoreline for his team the Kentucky Wildcats.
The team still needed to win five games to make the tattoo accurate. Unfortunately it didn't happen.
5. When you slow down too soon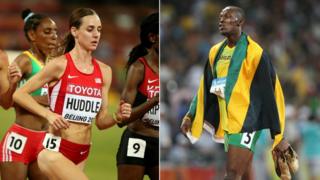 Getty Images
In the 2015 world athletics championships American runner Molly Huddle thought she had the women's 10,000m bronze medal position in the bag.
So she slowed down and raised her arms as she came near the line, accidentally allowing her team-mate Emily Infeld to overtake her!
But she's not only one to make this kind of tactical error!
Usain Bolt's slowed down to celebrate as he crossed the finish line in the 2008 Beijing Olympics 100 metres.
The World's Fastest Man broke a world record with his 9.69 time, but he could have been even faster!
Some scientists calculated that Bolt could have won run the race in 9.55 seconds if he hadn't slowed down to celebrate.