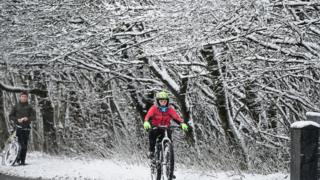 Getty Images
The UK has been shivering overnight, with lots of snow falling across Scotland and Northern Ireland, as well as in parts of England and Wales.
Loads of kids in Northern Ireland will be off school because of the snow - more than 250 schools have been closed on Wednesday.
And kids will be off in parts of Scotland as 100 schools and nurseries have been closed there too. In one school on the Isle of Sky, pupils had to stay overnight as it was too snowy to get home!
So, we want to know if it's snowing where you live - and send us your pictures too!
Maybe you've had time to build a snowman before school, or has school even been cancelled today?