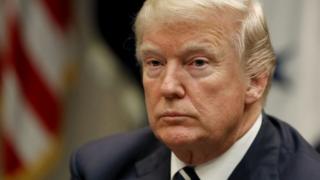 Getty Images
American president, Donald Trump, has cancelled February's visit to the UK.
He was due to open the new US embassy office in London. It's where people who represent America in the UK work.
But President Trump says he's not happy with the office and its location so doesn't want to cut the official ribbon to open it.
However there've been reports that the trip may also have been cancelled because his team are worried that it will be met with protests in the UK.
It's thought that President Trump will still visit the UK later this year to meet the Queen, but there are no firm plans yet.