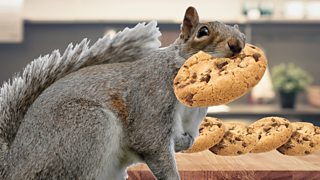 Intruder alert! Squirrel in the kitchen
You probably remember the viral video of a bat flying around a kitchen in County Kerry in Ireland, while the family tried to chase it out!
Well it's happened again. But this time swap the bat for a squirrel, and Ireland for Brockport in New York.
This time the police were even brought in to help!
The cheeky character broke into the house, and apparently started eating cookies. Maybe he didn't have enough nuts squirreled away for the winter.
Check out the moment it launches itself at one of the police officers - filmed on the officer's bodycam! Bet they didn't see that coming!
Thankfully they managed to get the furry thief safely back outside again, to the relief of the homeowners.