It's not long now before another adaptation of a David Walliams book will be hitting our screens.
Grandpa's Great Escape will be the fifth of his books to be made into a Christmas TV special, after Mr Stink (2012), Gangsta Granny (2013), The Boy in The Dress (2014) and Billionaire Boy (2015).
So here's everything you need to know about it.
The book tells the story of Grandpa, a World War II flying ace, who now sadly suffers from Alzheimer's disease. He is moved to an old people's home called Twilight Towers when his family can no longer look after him.
When it becomes clear that the woman who runs Twilight Towers - Miss Dandy - has some sneaky ideas up her sleeve, it is up to Grandpa and his grandson Jack to make a daring escape.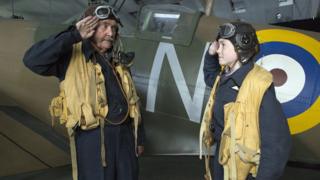 King Bert Productions
If he manages to escape, he will be able to relive his past and take to the skies again in his beloved spitfire plane.
David Walliams said: "It's an adventure story about a daring escape from an old people's home, and it's also a story about a special connection between a grandson and a grandfather - because Jack is the only one who understands Grandpa."
There will be some famous faces in the programme.
As with previous adaptations of his books, David Walliams will be appearing in the programme. He will take on the role of Jack's dad, Barry.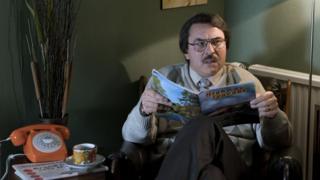 King Bert Productions
Grandpa will be played by film star Sir Tom Courtenay, while Jennifer Saunders has been cast as the mischievous Miss Dandy.
Jack will be played by 13-year-old Kit Connor, who has been acting since he was 8.
What else do we know about it?
David Walliams has revealed that the story is quite ambitious to make into a television programme.
"It's about the stealing of a Spitfire from a war museum! This is quite difficult to do on television given that we don't have the multi-million dollar budget of a movie!"
Apparently, there are going to be lots of special effects to look forward to.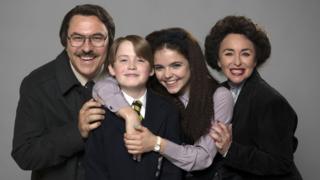 King Bert Productions
When asked what he hopes people will get out of watching Grandpa's Great Escape, David says: "I hope they're entertained, I hope they're moved and I hope they ultimately treasure their grandparents a little bit more, because I think time spent with your grandparents is a very precious time.
"I can remember very special times spent with my grandparents, which I will always treasure."
Grandpa's Great Escape will be on BBC One at 6:55pm on New Year's Day.