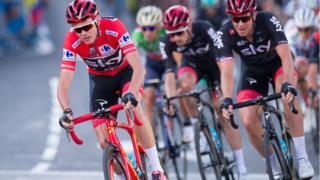 Getty Images
Chris Froome is Great Britain's most successful ever road cyclist.
He's won the Tour de France four times and this year he became the first person to win the Tour de France and the Vuelta a Espagna (the Tour of Spain) in the same year since 1978.
He's also one of the ten contenders for Sports Personality of the Year.
But now he's facing questions after a urine test found levels of a legal asthma medicine that were too high.
Riders who have asthma are allowed to take the drug Salbutamol, but only up to a certain amount.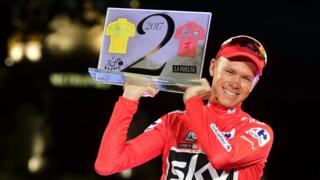 Getty Images
The UCI - who are in charge of cycling - found Froome had twice as much Salbutamol in his urine as is allowed during a test at the Tour of Spain.
They have asked him to explain himself, but haven't suspended him from riding.
Froome says it's well known that he suffers from asthma. He claims he took his team doctor's advice to increase his inhaler use after his asthma symptoms got worse, but that he stayed within the legal limits.
He says he welcomes the investigation and said he always takes "the greatest care to ensure that I did not use more than the permissible dose."
"I take my leadership position in my sport very seriously. The UCI is absolutely right to examine test results and, together with the team, I will provide whatever information it requires."