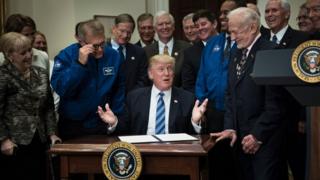 Getty Images
US President Donald Trump has ordered Nasa to start planning a new mission to the moon!
On Monday he signed a special document to lead a brand new space exploration programme to send American astronauts back to the moon, 45 years after the last one.
That's not all! The plans also said Nasa should plan for the US to visit Mars too.
President Donald Trump wants the United States to continue to be the leader in space exploration.
In June, China announced that it is also moving forward with its plans to go to the moon.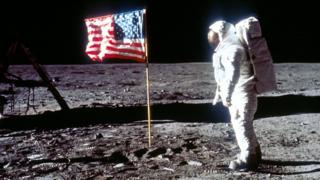 NASA
Several big names in the space world were there as President Trump announced his plans, including former astronauts Buzz Aldrin and Harrison Schmitt who have been to the moon.
Current astronaut Peggy Whitson, was also there. Her 665 days in orbit is more time in space than any other American and any other woman worldwide.
So what will happen next?
The US Vice President Mike Pence will lead the US government's new space policy.
Nasa said it will need more money to make these new plans happen.
I guess we'll just have to wait and see if Trump can start some future moon-walking!