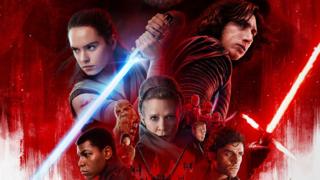 Walt Disney Studios
There's only one week to go until fans across the world will finally get to return to a galaxy far, far away.
That's right! Star Wars: The Last Jedi is set to hit cinemas on 15 December.
The film will continue the story of Rey's journey to find her place in the galaxy with the help of Luke Skywalker, and maybe even Kylo Ren.
Newsround will be meeting three stars from the new movie, who are strong with the dark side of the Force, and we want you to send in your questions for them.

This chat page is now closed. Thank you for all your questions.
Newsround will choose some of them to ask the Star Wars cast when we meet the actors to talk about the new film.
You must ask your parent, teacher or guardian for permission before you send us a question.
We may show your comment on our website or in our TV bulletins. We'll show your first name and which town you're from - but we won't use your details for anything else.