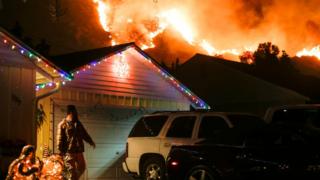 Getty Images
Around 27,000 people in southern California have been forced to leave their homes because of wildfires.
Thousands of people had to leave their homes in the middle of the night because of quickly spreading wildfires.
The fires have have now crossed over the main coastal highway and reached the Pacific Ocean, on America's West Coast.
The cities of Ventura and Santa Paula - 70 miles north of Los Angeles - have been the worse affected areas, and have now been completely evacuated.
High winds meant the fire swept through tens of thousands of acres in a matter of hours.
Firefighters warned the fire was moving so fast they were unable to control it.
More than 1,000 firefighters are now battling the fires, and they have said 150 buildings have been destroyed by fire, with more than 260,000 people left without power.
California Governor Jerry Brown has declared a state of emergency in Ventura County, promising to attack the fire "with all we've got".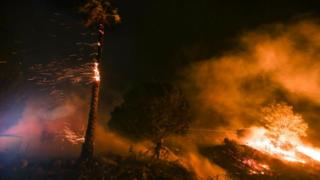 Getty Images
Authorities have warned of widespread smoke and advised people with health conditions, the elderly and children, to stay indoors in affected areas.
Strong winds and dry conditions are making the fires worse and are due to continue for a few days.
Weather forecasters say this could make for extremely dangerous conditions.
Around 30,000 people live in Santa Paula, while Ventura has a population of about 110,000. Both are in Ventura County.
Another fire broke out early on Tuesday morning in Sylmar, closer to Los Angeles.
Homes there have been damaged and more than 400 firefighters have been sent there.
These aren't the first major fires California has had to deal with in recent months.
At least 40 people were killed when fires ripped through parts of northern California's wine region in October.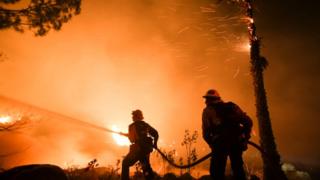 Getty Images