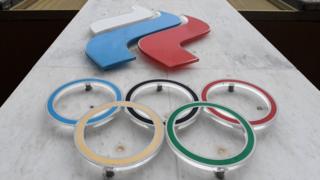 Getty Images
Russia has been banned from competing at next year's Winter Olympics in Pyeongchang by the International Olympic Committee.
That's because it's thought that the Russian government may have helped athletes take drugs to give themselves an unfair advantage in competitions.
Russia denies this, but an investigation has been looking into whether it happened in the 2014 Games.
But Russian athletes who can prove they weren't involved can still compete in South Korea under a neutral flag.
The 2014 games were hosted by Russia, in the city of Sochi. This isn't the first time Russian athletes have been banned from the Olympic Games.
Russia's track and field athletes were banned from competing in the Summer Olympics in Rio last year.
The Russian government is very unhappy about the decision to ban its athletes from Pyeongchang, and some politicians think that even athletes who aren't banned should boycott the Games.
But other officials in Russia have welcomed the move, saying it's a chance for 'clean' athletes to take part.
The Russian Olympic Committee (ROC) has been suspended but the International Olympic Committee (IOC) said it will invite Russian clean athletes to compete in February under the name 'Olympic Athlete from Russia' (OAR).
The IOC made the decision to ban Russia, after reading through the findings and recommendations of the investigation, which took almost a year and half to carry out.
Russia has always denied be involved in doping.
The investigation backs up previous claims that the Russian government was involved in cheating in the run-up to, and during the Winter Olympics, almost four years ago.
Russia finished top of the Sochi 2014 medal table, so this ban could potentially leave opportunities for gold, silver and bronze open to several other nations.
It is not yet clear how many Russian athletes, if any, will seek to compete under a neutral flag.
Other athletes are also considering appeals against their doping bans.
The Winter Games in South Korea, will start on 9 February 2018.