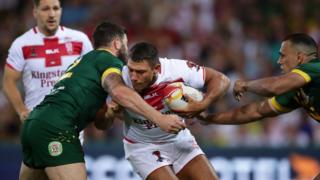 Getty Images
England's journey to the Rugby League World Cup final was like a rollercoaster ride!
They had a disappointing start, losing to the Australian hosts on the opening night of the competition.
But beat Lebanon, France, and Papua New Guinea.
During the last World Cup in 2013 England narrowly missed out on on a place in the final, but not this time!
They made it through a nail-biting semi final against Tonga, to face reigning champions Australia in today's battle for the title.
But unfortunately they weren't able to overcome the reigning champions, with the Kangaroos winning 6-0.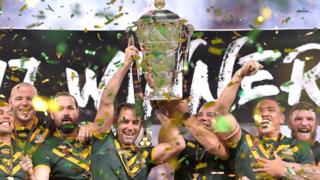 Getty Images
Australia's Boyd Cordner scored the only try of the match. For the Ozzies, it's a record 11th triumph!
It was a double World Cup win for Australia! The women's team also won their World Cup final, beating New Zealand 23-16.
How big a deal was this final for England?
This is England's first appearance in a World Cup final for 22 years!
They lost to Australia that time too, with the 1995 final 16-8 defeat at Wembley.
The current England team's assistant coach Denis Betts was the last man to captain England in a World Cup final. Before the game he said reaching the final itself is not enough because "nobody ever remembers the losers".
But hopefully the England team can be very proud of their performance today.
England played so well that Kangaroos captain Cameron Smith said this victory is "one of the toughest games I have played in my career".
The last time a British team won the tournament was in 1972, as a combined Great Britain team.