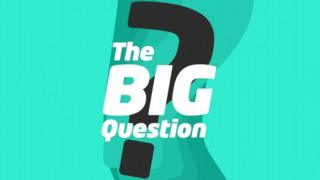 What are some of the biggest questions you can think of? What really puzzles your brain box? What gets your noggin itching? Well, we want to know!
Here at Newsround, we're trying to answer some of the big questions that sometimes pop into your head.
Like, can we bring dinosaurs back to life?
Or, what's the difference between a tangerine, satsuma and clementine?
Your questions can be as fun or as complicated as you like - no topic too big, no quandary too small!
Whatever the question, we might be able to get you an answer.
Send your question to: Newsround.BigQuestion@bbc.co.uk
You must ask your parent, teacher or guardian for permission before you send us a comment.
We may show your comment on our website or in our TV bulletins. We'll show your first name and which town you're from - but we won't use your details for anything else.