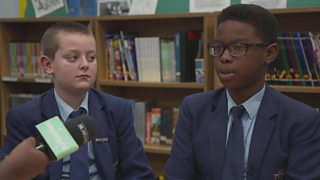 Anti-cyberbullying plan: Your verdict?
'Stop, speak, support' - those are the three things the Royal Foundation say you should do if you experience bullying online.
The charity was set up by Prince William, and is releasing a new anti-cyberbullying plan with advice and support for young people.
The plan says if you see it happening, STOP (try and get an idea of what's really going on, and what the rules are for the site you're on), SPEAK (to an adult, a friend, a charity and report what's happening), and SUPPORT the person being bullied (send them a message, encourage them to talk to someone they trust, and give them a positive distraction).
But will the advice make a difference?
We went to a school to find out what some of you think about the new guidelines.