It's that time of year when everyone is getting ready for Halloween.
Many of you will carving spooky faces into them like Martin did at the workshop.
But once you have scooped out the insides - which is full of squidgy pumpkin flesh and seeds -what do you do with it??
Don't throw it away! You can actually make lots of yummy dishes out of the inside of your pumpkin.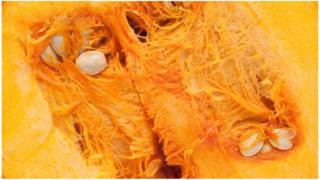 Getty Images
You might have had pumpkin soup before, but what about cookies or dumplings?
Foodini Club, which holds workshops to teach people about food and what they can do with it, held a session in Brighton to show children some of the exciting recipes that can be made using the inside of pumpkins.
If you fancy having a go at making the monster cookies in the video, here's the recipe below.
Remember, always ask an adult to help you if you're carving or cooking with pumpkins.
Pumpkin monster cookies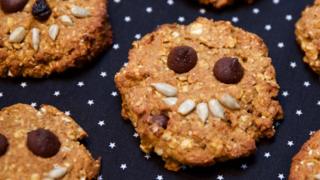 Foodini Club
This recipe will make about 15 cookies. They take about 15 mins to make, once you have made your puree at the beginning (which takes about 50 mins)
They will take just 15-20 mins to cook.
You will need:
Large mixing bowl

Flat baking tray

Mixing spoon

Fork

Baking paper
Small pumpkin (you will make 50g of pumpkin puree out of this)

50g of butter or 50ml of coconut oil

120ml of maple syrup

50g of rolled oats

60g of wholewheat or gluten-free flour

1 teaspoon of ground cinnamon

0.25 teaspoon of ground allspice

1 teaspoon of vanilla essence

0.5 teaspoon of bicarbonate of soda

Pinch of salt

30g of raisins or sultanas

Chocolate chips and seeds to decorate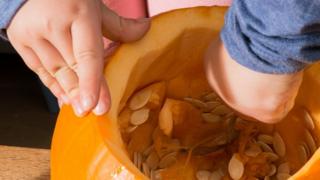 Getty Images
1) First you need to make some pumpkin puree out of your pumpkin. With an adult's help, cut 1/4 of your pumpkin and roast it in the oven for 45 mins. This will make the flesh nice and soft.
2) Once this is done, scoop all of the flesh from your piece of pumpkin and mash it up, so you're left with a nice smooth pumpkin puree with seeds in. Leave this to cool.
3) Mix together the maple syrup with the oil or butter (depending which one you use) and heat it in a pan to melt it, for 5 mins.
4) Add 50g of your pumpkin puree to the pan and mix it all up. Leave this to cool then add the vanilla essence and stir this up too.
5) Pour the sauce into a bowl with the rolled oats, the flour, the cinnamon, all spice, bicarbonate of soda and salt. Mix it all up. Once this is mixed, add your raisins and sultanas, and mix that in too.
6) Spoon out your mixture into onto a baking sheet into small balls. Each ball will be one cookie! You will need about one tablespoon for each one.
7) Use your fork to flatten the balls so they look more like cookies. Then, use the chocolate chips and seeds to make spooky faces on them!
8) Bake the cookies in the oven for about 15-20 mins at 180C until they are golden brown.
9) Leave the cookies to cool down before eating them!