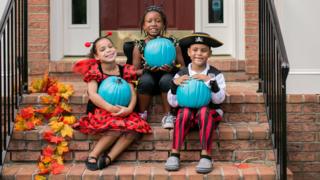 FARE
Lots of you have been telling us that you are excited to go trick or treating this Halloween.
But what does it mean if you see a pumpkin looking like this at somebody's house when you're out and about?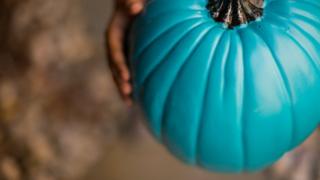 FARE
Well, it isn't because the person who has made it just likes the colour teal.
A teal pumpkin is a sign that a house will offer treats that are suitable for any trick-or-treaters who have any food allergies or intolerances.
Sometimes when you go trick or treating, a house might only offer biscuits, cakes or treats made of ingredients to which you might be allergic, like nuts or milk.
If you have a food allergy or intolerance to the treat on offer, that could ruin the fun slightly if you can't have the treat.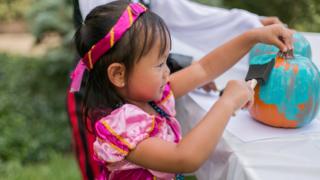 FARE
So some houses put teal pumpkins outside or in their window which is a way of telling you that the people who live there will be able to offer you a non-edible treat that anyone can enjoy - food allergy or not!
The Teal Pumpkin Project is run by Food Allergy Research and Education (FARE) in America, but now it has made its way over to the UK.
Why does the project use this colour? Well, according to the project's website: "Teal is the colour of food allergy awareness. It has been used to raise awareness about this serious medical condition for nearly 20 years."
So keep your eyes peeled for teal pumpkins this Halloween now you know what they mean!