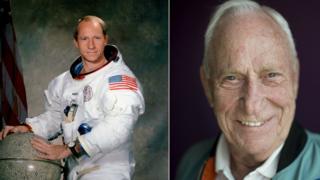 Nasa/Michael Cockerham Photography
Have you ever wondered what it's like to go into space? Or fly around the moon?
Well, not many people have done it, but Nasa astronaut Al Worden has! He was the command module pilot for the Apollo 15 mission back in 1971.
As part of the mission he orbited the moon completely on his own for three days, while the other astronauts were down on the surface. This meant he was a whopping 2,235 miles away from Earth, further than anyone had ever been before. A pretty amazing achievement!
Newsround is getting the chance to meet him later this week, and we'd like to know what space-tacular questions you want us to ask him. So, if you've ever wanted to ask an astronaut a question - here's your opportunity.
This chat page is now closed. Thanks for sending in your questions.