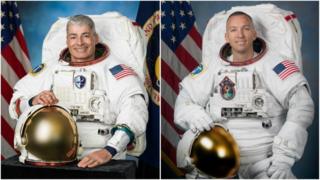 NASA
On Tuesday 10 October, Nasa astronauts Randy Bresnik and Mark Vande Hei went outside of the International Space Station to fix one of the spaceship's robotic arms.
Canadarm2 is a robotic arm created by the Canadian Space Agency and was first installed on the ISS in 2001. It's 17.6 metres long and can handle weights of up to 116,000 kilograms.
The arm is designed to make "cosmic catches" - that means it moves supplies, equipment and sometimes even astronauts to and from the ISS.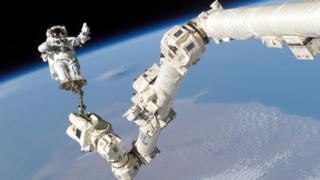 NASA
During the first spacewalk to fix Canadarm2 on October 5, Commander Randy Bresnik and Flight Engineer Mark Vande Hei made some fixes to the arm's grappling mechanism which stopped working properly in September.
These next two spacewalks will involve replacing a failed camera and oiling the arm to ensure it works properly. The maintenance work is expected to take more than six hours to complete!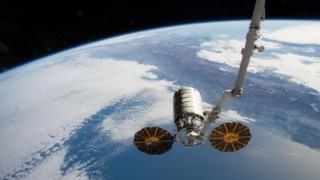 NASA
The final spacewalk to fix Canadarm2 will take place on October 18, and will be streamed live from the ISS on the Nasa website.
Last year, British astronaut Tim Peake took part in a spacewalk to carry out repairs to the ISS, but had to finish early due to water in astronaut Tim Kopra's helmet.