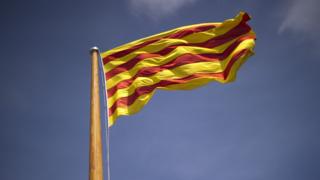 AFP/Getty Images
There are big arguments happening in Catalonia at the moment after an unofficial vote there for independence from Spain.
We want to know if you have any questions about what's happening.

Many thanks for all your comments - this chat is now closed.
You must ask your parent, teacher or guardian for permission before you send us a comment and a photo.
We may show your comment on our website or in our TV bulletins. We'll show your first name and which town you're from - but we won't use your details for anything else.
Your questions
Is this the first independence protest from Catalonia?
Liana, 10, Gloucester
Why does Catalonia want independence in the first place?
Sophia and Marko
If Catalonia became it´s own country, how would that affect Spain?
Loreto
Is it true that the Catalan referendum was a rebellion?
Alex
If Catalonia declares independence what will happen next?
Kevin
Will Barcelona still play in the Spanish League?
Nela
What does the King of Spain think about what is happening in Catalonia?
Jaun
Is it true that if Catalonia becomes independent then Barcelona might play in the French league instead?
David