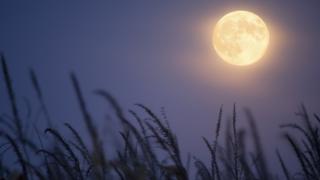 Getty Images
Leaves are filling up the streets, the air is getting colder and thoughts are turning to Halloween.
Autumn is well and truly on its way - and for astronomy fans, autumn also means it's time for the harvest moon.
What is the harvest moon?
The harvest moon is the name given to the full Moon that takes place closest to the autumn equinox.
This is why the harvest moon can fall any time between September and October.
Why is it called a harvest moon?
It is called a harvest moon because the Moon is particularly bright and rises early.
In the past, this allowed farmers to extend their working day and work by the light of the extra-bright Moon, gathering crops to prepare for the winter months - hence 'harvest'.
When will the harvest moon happen?
The best night to view this autumn's harvest moon will be the early hours of Saturday morning (14 September) around 5:30am, so you'd have to get up early at the start of the weekend!
The Autumn equinox is on 23 September, so the full Moon closest to this date is actually before the equinox this year.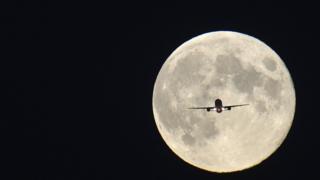 Reuters
How can we see the harvest moon?
Provided the weather is clear, it should be relatively easy to get a good view of the harvest moon.
The great thing is that you don't need a telescope to see it! Although keen stargazers might use one to get a closer look.
Sometimes people say the Moon turns a deep orange for the harvest moon. This effect sometimes occurs if you glimpse the Moon when it is close to the horizon. That's because you are seeing it through the thickness of the Earth's atmosphere, which can cause it to change colour slightly.
When it gets up into the centre of the sky, it will be shining a brilliant white. Let's hope it's a clear night!
The next full Moon to grace our night skies will be the hunter's moon - the 10th full Moon of the year.
Like the harvest moon, the hunter's moon is brighter and shines for longer, traditionally giving hunters more light to catch food.