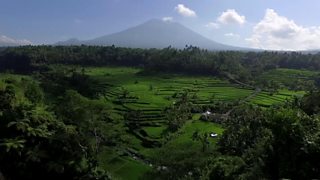 Locals leave in case volcano erupts
There are fears a volcano on the island of Bali, in Indonesia, may erupt, causing hundreds of thousands of people on the island to leave their homes.
The volcano, called Mount Agung, has been rumbling since August leading the government to issue a warning.
Indonesia sits on the Pacific "Ring of Fire" where tectonic plates collide, causing frequent seismic and volcanic activity.
Mount Agung last erupted in 1963.
144,000 people have left their homes following the warning, meaning some animals have been left behind.
Now, volunteers are going back to rescue them before the volcano erupts. The animals are relocated to shelters where they are fed and cared for and the owners are encouraged to visit as often as possible to ensure their upkeep.