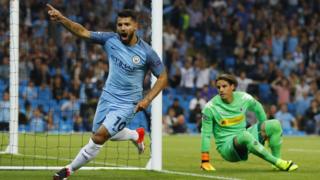 Reuters
Manchester City superstar Sergio Aguero is recovering after being in a car crash in the Netherlands.
He won't play against Chelsea this weekend but City manager Pep Guardiola has told a press conference "it doesn't matter if he's able to play or not. What matters is that he's ok."
He says doctors think the 29 year old player has a broken rib and they're not sure how long he'll be out for.
He's also expected to be sidelined for Argentina's World Cup qualifiers early in October.
The striker was in Holland on his day off when he was injured.
It's thought he was in a taxi heading to an airport in Amsterdam when it happened late on Thursday.
He'd just been to see the Colombian singer Maluma perform.
Guardiola has also said he isn't mad at him for going to the gig on his day off because he wants "the players to be happy".
Get well soon Aguero!