Saudi Arabia was the only country left in the world where women weren't allowed to drive - but that's set to change.
Until now only men were allowed driving licences, and so while there was no formal ban on women driving, they couldn't drive legally either.
Women who drove in public risked being arrested and fined.
But now the leader of Saudi Arabia, King Salman has issued a special decree, or ruling, that grants women permission to get driving licenses
A special government body has being set up to give advice, and the law will be changed by 24 June 2018.
But why were women not allowed to drive?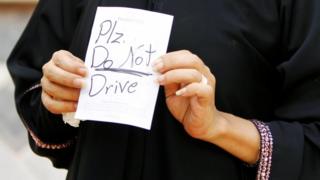 Reuters
The Kingdom of Saudi Arabia follows a particularly strict brand of Islamic law known as 'Wahhabism'.
It says that men and women should be kept separate and what women should wear veils to cover themselves.
It's also the law in Saudi Arabia that every woman must have a male guardian. This is often a relative or the woman's husband.
Some people there think women don't need to drive, because they don't travel without a man who can drive for her.
So why has 'the ban' been lifted now?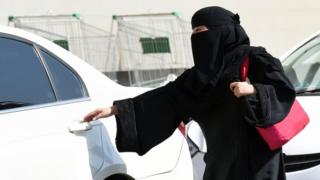 AFP / Getty Images
The previous leader of Saudi Arabia starting relaxing some of the laws around what women could do back in 2011.
But this change is said to be down to the current king's son Mohammed bin Salman
In June his dad gave him the job of ambassador to the US, and he is in charge of an plan to reform and transform society in Saudi Arabia by 2030.
To make this happen he says the country needs to increase the number of women in the workforce, and they need to be able to drive to work.
The crown prince says it was "the right decision at the right time".
He says the question of whether women should drive is "not religious nor a cultural issue", but he says he understands there might be "social issues", as not everyone in Saudi Arabia supports the changes.
How have people in Saudi Arabia reacted?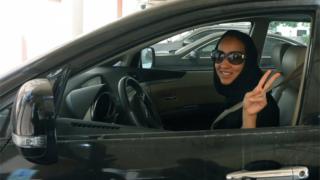 AFP/Getty Images
This decision by King Salman is a big step for the Women2Drive campaign in Saudi Arabia, who have been arguing for years to get this law changed.
Manal al-Sharif, started the campaign back in 2011. She was sent to prison after posting a YouTube video of herself driving a car.
She celebrated the change by posting a photo of herself behind the wheel of a car.
Another campaigner Sahar Nassif says she laughed, jumped and screamed when she heard the news. She now plans to buy her dream car - a convertible Ford Mustang.
But not everyone is happy.
Some traditional and religious leaders in Saudi Arabia have been saying the new law is "bending the verses of Sharia" which is the religious law Muslims follow.
What have reactions been around the world?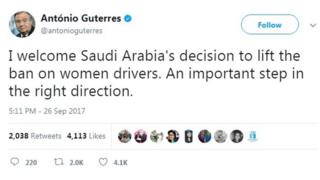 Twitter
United Nations Secretary General Antonio Guterres tweeted it is "an important step in the right direction".
But other organisations like Human Rights Watch and Amnesty International said that this is "just one step", and that there are lots of things that women in Saudi Arabia still aren't allowed to do.
They are now calling for all the other laws and practices which discriminate against women in Saudi Arabia to be scrapped.
What other recent changes have there been for women?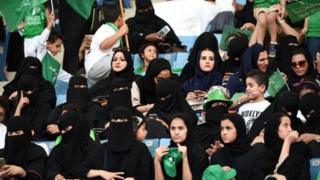 AFP/Getty
Back in 2011 the previous leader King Abdullah decided to start appointing women to his royal advisory council, the Shura, and also changed the law to give women the vote.
Rules were also changed to allow women to play sports and compete in the Olympics.
In 2015 women were elected to local councils for the first time, and there are now more Saudi women going to university than men.
Since King Salman has been in charge there have been even more changes.
In May rules stopping women from using government services without getting permission from a man were relaxed.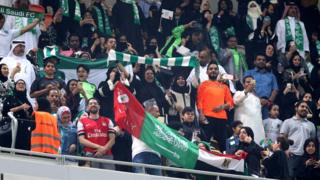 EPA
In September women were allowed to enter a sports stadium for the first time to take part in the country's National Day celebrations.
And before the news King Salman was scrapping the ban on driving, he ordered workplaces to provide transport for female workers.
In January 2018, women in Saudi Arabia were allowed to watch football in a stadium for the first time.
Women fans filed into a stadium in the city of Jeddah through family gates into family seating.
What can women still not do in Saudi Arabia?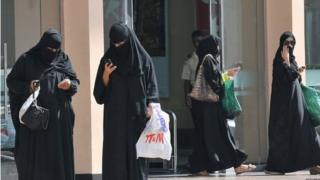 Getty Images
Although there have been changes, life is still very different for women in Saudi Arabia compared to other parts of the world.
Women need permission from a male family member - her father or husband or someone else - to do things like apply for a passport, travel abroad, and marry, get divorced, open a bank account, get a job or have some types of medical surgery.
They also aren't allowed to appear in public without wearing a full-length black robe called an 'abaya', which covers their whole body.
Hospitals, banks and medical colleges are the only places where women are allowed to mix with boys or men who aren't relatives.
In shops "separation walls" have been built to stop men and women workers from mixing together, and in restaurants any men and women who aren't with their family have to sit separately.
But there are exceptions in the country: Non-Saudi women are legally permitted a more relaxed dress code, and if they are not Muslim they are allowed to not have their heads covered.