British cyclist Mark Beaumont has smashed the record for cycling around the globe by reaching the finish line one day ahead of schedule.
The adventurer set off from France in July on a mission to bike around the world in 80 days and he arrived back in Paris on Monday evening on day 79 of the journey.
The Scot has set a new Guinness World Records title, knocking 44 days off the current record of 123 days.
In order to complete the epic 18,000-mile challenge, Mark needed to cycle on average 240 miles a day.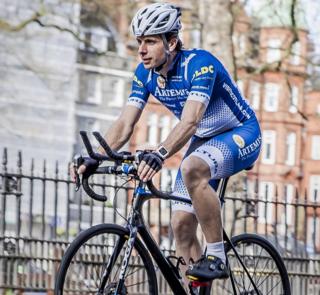 Getty Images
Mark started long-distance cycling at 11-years-old, when he rode 145 miles across Scotland.
This world record attempt started in Paris, and took him through Europe, Russia, Mongolia and China.
He then cycled across Australia, up New Zealand, across North America before the final "sprint finish" thorough Portugal, Spain and France.
Mark's health has been a big factor throughout the journey.
He has a special team that looks after him.
They've dealt with a few things which could have stopped his attempt, including calluses - which are hard parts of skin - on his feet from riding long distances, a crash which knocked out a filling in his teeth and even a cold which could have ended his hopes of finishing on time.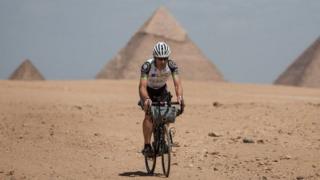 Jeremy Sutton-Hibbert
When asked if he thought anyone will attempt to break his record he said: "I sincerely wish them well... There's no reason it couldn't be broken. After all, I'm hardly your typical cyclist - I'm 6'3" and 90 kilos. Someone who is 75 kilos and a 'proper' cyclist might do it faster. We shall see.
"But I'll always be the first who did it [in under 80 days]. No one remembers who was second up Everest."
Want to know more about Mark's journey? We've got five amazing facts about his trip.