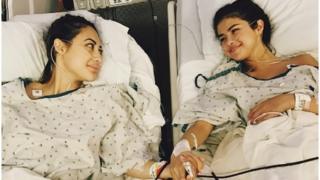 INSTAGRAM/ SELENA GOMEZ
Selena Gomez has revealed that she's had a kidney transplant, thanks to an organ donation from her friend.
Selena posted a picture on her Instagram page, showing herself and friend Francia Raisa in hospital beds holding hands.
Posting to her 126 million followers, Gomez said: "I'm very aware some of my fans had noticed I was laying low for part of the summer and questioning why I wasn't promoting my new music, which I was extremely proud of. So I found out I needed to get a kidney transplant due to my Lupus and was recovering.
"There aren't words to describe how I can possibly thank my beautiful friend Francia Raisa. She gave me the ultimate gift and sacrifice by donating her kidney to me. I am incredibly blessed. I love you so much sis."
Selena has spoken publicly about her battle with the disease called Lupus.
What is Lupus?
Lupus is a disease of the immune system and can affect many parts of the body.
Immune systems are made up of cells, tissues and organs, that work together to protect from infections and diseases.
Lupus attacks healthy cells, tissue and organs.
The most common symptoms of Lupus are rashes, extreme tiredness and joint pain, according to the NHS.
Symptoms of Lupus can range from mild to very serious.