More than 647,000 Rohingya people from the country of Myanmar have now left their homes, according to Medecins Sans Frontieres (MSF) - a charity working there.
They've fled to Bangladesh, another country nearby, because of fighting in the state where they live.
This happened in the Rakhine state as a result of conflict between the Myanmar military and the Rohingya people.
Based on surveys of refugees in Bangladesh, MSF say at least 6,700 Rohingya people were killed in September - the month after violence broke out.
This number is much higher than Myanmar's official figure of 400.
In October the Disasters Emergency Committee (DEC) - a group of 13 charities who work together in times of crisis - launched a special appeal to help those who have had to leave the country.
A video telling people about the situation in Myanmar, and asking people to donate money, was shown on major UK TV channels.
The government says it will match the first £3 million donated by the public.
Find out more about what is happening and why below.
In Myanmar's Rhakine state, there are over one million Rohingya (pronounced ro-hin-jah) people. They are a mostly Muslim ethnic group who say they've lived there for generations.
An ethnic group is a group of people who share, or are descended from, the same cultural background.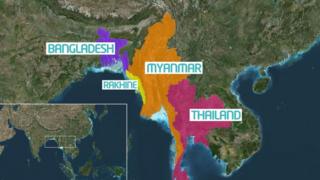 The majority of Myanmar's population is Buddhist; almost 9 in every 10 people. Many of the top people in the military are Buddhist.
The Rohingya people say they have been treated badly by Myanmar's government and military for many years. This has caused tension between them, which has often resulted in violence.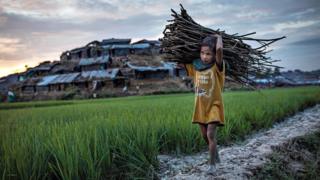 Getty Images
The Myanmar government says the Rohingya people are illegal immigrants from Bangladesh who don't belong in the country.
The situation has got worse over the last year.
Where has this fighting come from?
The Rohingya people are not treated in the same way as other people living in Myanmar.
The government does not recognise them as proper citizens of the country, so they cannot access the same medical treatment, education and basic services as other people who live there.
The United Nations (UN) has described them as one of the world's most persecuted people. To be persecuted means to be treated very badly, often because of religion, race or political beliefs.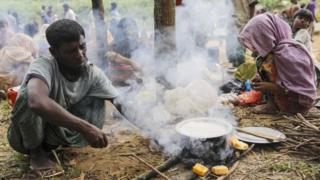 Getty Images
On 25 August, violence broke out in the Rakhine state between the Myanmar army and Rohingya fighters, after Rohingya fighters attacked the police and government soldiers.
A Rohingya group called the Arakan Rohingya Salvation Army (Arsa) said it carried out the attack, which was its biggest so far.
The Myanmar military fought back, leading to violence in which hundreds of people were killed and tens of thousands were forced to flee from their homes.
The UN's top human rights official said that the way the military responded to the attack at the end of August was "clearly disproportionate". This means he does not think that it was a fair way to react to the Rohingya attack.
The violence against Rohingya people has continued since the attack by Arsa.
What's the situation now?
The fighting has not stopped yet and tens of thousands of Rohingyas are continuing to flee across the border from their home state of Rhakine to Bangladesh, a country next door, in search of safety.
But Bangladesh does not want to take refugee Rohingyas into its country as it says they do not belong there. This is leaving many Rohingya people with nowhere to call home.
They are having to live in makeshift camps along the border. But charities who are trying to help these people say there is not enough water, food and medical supplies to support them.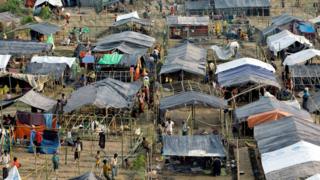 Getty Images
The UN says it has received reports of the Myanmar military breaking the law in how violent it has been towards ordinary Rohingya people.
Its top human rights official said that he thinks the way the Rohingya people have been treated shows how the authorities are trying to get rid of them from Myanmar.
To get rid of a group of people like this is called ethnic cleansing. This is not the first time that the UN has said the Myanmar military is trying to do this to Rohingyas.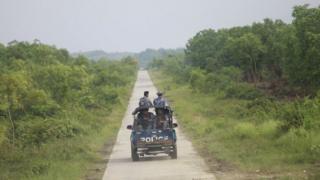 Getty Images
However, the Myanmar military has denied that this is what it is trying to do.
It has also said that it is only fighting against Rohingya soldiers and denies targeting ordinary citizens.
It is difficult to know exactly what is going on or what will happen next as the Myanmar government make it difficult for people to go to the area or find out information.
The world is putting pressure on one of Myanmar's leaders Aung San Suu Kyi to do more about the fighting, after it was hoped she would help to ease the tension when she came to power in 2015.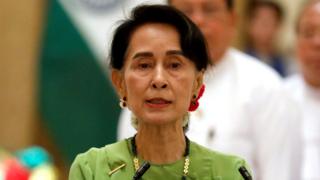 Reuters
She does not directly control the Myanmar military involved in the conflict, but some world leaders and campaign groups have said she could do more to protect the Rohingya people from what is happening to them.
In a recent speech to Myanmar's parliament, she said she felt "deeply" for the suffering of "all people" in the conflict, and that Myanmar was "committed to a sustainable solution… for all communities in this state".
But she is being criticised for not properly addressing the accusations against the Myanmar military of abusing Rohingya people.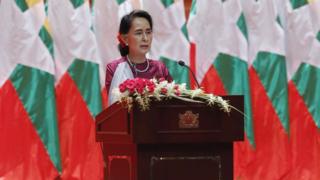 European Photopress Agency
After the speech, the UN asked to be able to get into the area so it can investigate what is happening "with its own eyes".
The Rohingya group of fighters Arsa called for everyone to put their weapons down and stop fighting on 10 September to allow aid agencies to help people, but the Myanmar government rejected it, saying that they would not deal with "terrorists".
In November, Bangladesh signed a deal with Myanmar to return hundreds of thousands of the refugees.
But charity Medecins Sans Frontieres (MSF), says that this agreement was made too soon, because people are still running away from Myanmar, there are still reports of violence there, and it's still very hard for aid groups to get into the Rakhine state.