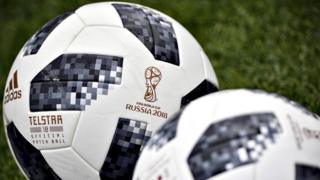 AFP/Getty Images
The world's most hotly anticipated football tournament finally kicked off on Thursday.
Yes, it's the World Cup!
Ahead of the first game between Russia and Saudi Arabia (in which Russia took a cool 5-0 victory), Fifa president Gianni Infantino said he was really excited for the tournament to get started. saying: "I'm looking forward to see the most beautiful spectacle in the world."
"What is nice about the World Cup is that there are always surprises, right?" he said. "Of course at the end you will maybe have the usual teams, but maybe there will be a surprise too, or some players that we have never seen. I am looking particularly forward to watching those teams who have qualified for the first time."
Read on to find out everything you need to know about the tournament and take our quiz to see just how much you know about the country that's hosting it.
The 2018 World Cup will run for just over four weeks from 14 June to 15 July.
A qualification campaign that involved 210 countries, 872 matches and 2,454 goals finally gave us the 32 teams who are now competing for the title of world champions.
Germany are the reigning champions after winning in Brazil in 2014. They beat Lionel Messi's Argentina in the final.
Both teams will be among the favourites again, but there'll be lots of countries who fancy their chances of lifting the World Cup trophy in the revamped Luzhniki Stadium in Moscow on 15 July 2018.
The tournament is being held in Russia for the first time ever.
There are 12 different stadiums hosting the matches, across 11 different cities.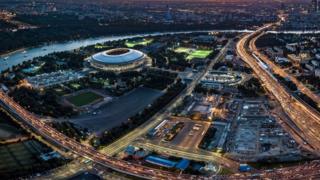 Getty Images
Russia is an enormous country - the distance from Kaliningrad Stadium to the Yekaterinburg Arena is 1,543 miles (2,481 km) - which is the same as driving from Wembley Stadium in London to Old Trafford in Manchester TEN TIMES!
The biggest - and also the newest - stadium is the Luzhniki in Moscow, which hosted the opening game (Russia v Saudi Arabia) and which will host the final 31 days later.
Which countries are going to be playing?
Russia qualified as hosts, which is why they kicked off the tournament on 14 June 2018.
From South America: Brazil won the region's qualifying group convincingly - they finished ten points ahead of the second placed team, Uruguay. Luis Suarez's team were joined by Argentina - who only snuck in after a Lionel Messi hat-trick in the final game - and Colombia. Peru were the last team to qualify, beating New Zealand in a play-off.
From Asia: Iran, Japan, South Korea, Saudi Arabia and Australia are through from this region. The mammoth process involves 45 teams, a knock-out round and two group stages! Even then Australia still had to go through play-offs against Syria and Honduras, from Central America, to bag their place in the tournament. Australia winger Daniel Arzani will be the youngest player in the tournament at just 19 - even though the average age of all the players going (28) is the oldest in the tournament's history.
From North and Central America: Mexico have topped this qualifying group and will be joined by Costa Rica. Panama qualified after they beat Costa Rica in the final round of games to take advantage of a surprise defeat for the USA. America will miss its first World Cup since 1986 after a miserable campaign.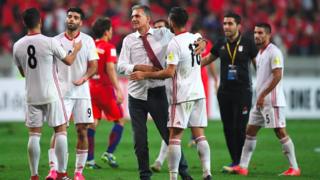 Getty Images
From Europe: England are only home nation through to the main event. In fact, with a massive 16 players, England's Manchester City is the best-represented team at Russia 2018. They'll be joined from Europe by...(take a deep breath)... Belgium, France, Germany, Iceland, Poland, Portugal, Russia, Serbia and Spain. Sweden, Portugal, Croatia and Switzerland qualified through the play-offs. This will be the first World Cup since 1958 without Italy - probably the biggest team to miss out. The Netherlands are another famous team to fall at the qualifying stage, along with the other home nations - Northern Ireland, Scotland and Wales.
In Africa: There were astonishing scenes in Cairo when Egypt qualified for their first World Cup since 1990. They will be joined by Nigeria, who were in Brazil in 2014. Morocco, Senegal and Tunisia will also be playing. Egypt are actually fielding the oldest player ever to play in a World Cup - Essam El-Hadary, who is 45 years old.
According to Fifa, 200 of the 736 players heading to Russia have played in the World Cup before, with 53 having scored in the tournament before.
Thomas Muller has scored the most with 10 goals, followed by James Rodriguez (6) and Tim Cahill, Gonzalo Higuain, Lionel Messi and Luis Suarez, each with 5.
All the countries have been put into eight groups for the opening stages. These groups are:
Russia, Saudi Arabia, Egypt, Uruguay
Portugal, Spain, Morocco, Iran
France, Australia, Peru, Denmark
Argentina, Iceland, Croatia, Nigeria
Brazil, Switzerland, Costa Rica, Serbia
Germany, Mexico, Sweden, South Korea
Belgium, Panama, Tunisia, England
Poland, Senegal, Colombia, Japan
Which players are going to be there?
The world's two best players are both be there. Lionel Messi and Cristiano Ronaldo had to wait until their final qualifying games, but both countries avoided disaster and booked their spot in the tournament.
Loads of Premier League stars are there too. Countries like France and Spain have taken well known stars like Paul Pogba and Alvaro Morata, but smaller countries like Iceland are in the tournament too, so players like Gylfi Sigurdsson have had to cancel their summer holiday plans.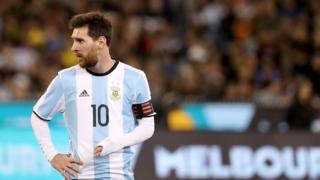 Getty Images
You can also look forward to seeing South American stars like Luis Suarez and Neymar playing for Uruguay and Brazil over the coming days.
Nations had to name 23 players to go the World Cup, with shortlists needing to be announced around a month before the tournament.
As for who didn't make the cut? You can find out more about that here.
The big question. Russia 2018's mascot is Zabivaka - a wolf whose name means 'the one who scores'.
Zabivaka was chosen after a vote in Russia, in which one million people voted!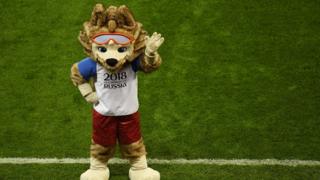 Getty Images
How did the home nations get on in qualifying?
England are the only home nation through to Russia 2018. They won their group, but many critics say they didn't have many difficult teams to beat.
Northern Ireland reached the play-offs, but lost 1-0 over two games to Switzerland.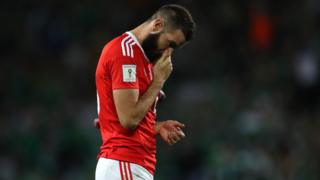 PA
Wales missed out after losing to the Republic of Ireland in their final qualifying match. After the campaign finished, they lost their manager Chris Coleman to a job with Sunderland.
Scotland did well to give themselves a chance of qualifying after an awful start to the campaign, but eventually fell just short of a play-off spot. Better luck next time, Scotland.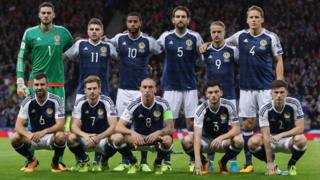 Getty Images