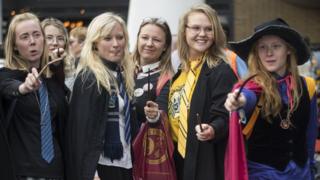 Lauren Hurley/PA Wire
The 1st September 2017 - the date that Harry Potter's son Albus starts school - has finally arrived!
Fans are celebrating the date from the last chapter of Harry Potter and the Deathly Hallows, when Harry Potter and Ginny Weasley travel to Kings Cross Station to wave off their son, Albus Severus Potter.
In the book, Hermione and Ron are also there with their children, saying goodbye to their daughter Rose.
And Draco Malfoy's son, Scorpius, is also going to Hogwarts for the first time.
Author of the Harry Potter books, J K Rowling, posted on social media: "Today's the day Albus Severus Potter boards the Hogwarts Express at King's Cross for the first time #19yearslater ⚡️"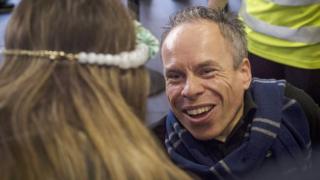 Lauren Hurley/PA Wire
Warwick Davis, who plays Professor Filius Flitwick AND Griphook the Gringotts goblin in the Harry Potter films, turned up at Kings Cross Station to mark the day.