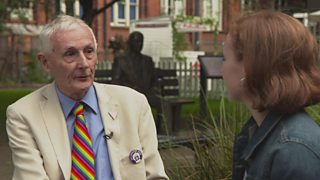 'Lonely' life when being gay was illegal
People have been taking part in Pride festivals all summer across the UK, which celebrate lesbian, gay, bisexual and transgender culture.
This year the festivals are also celebrating the 50th anniversary since it stopped being illegal for two men to be in a relationship in England and Wales.
Even though the law changed in the UK, it is still illegal to be gay in some parts of the world.
Newsround followed 17-year-old Megan as she visited her uncle at one of Britain's biggest Pride festivals in Manchester.
Watch them talk about what life was like for a gay man in the UK when it was illegal.