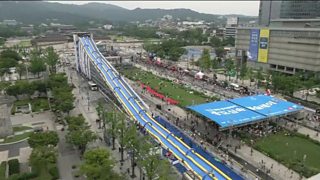 Huge water slide installed in street
Thousands of people in Seoul in South Korea have been having fun on a 300 metre long water slide.
The fun event is to promote the Winter Olympic Games in the country next year.
Around three thousand people had a go on the slide, including 23-year-old Lee who said: "I am having so much fun. It's very nice to come and play at a place not far from my home. I wish this kind of event takes place everyday, I'll come every single day."
The Games return to South Korea next year for the first time since the 1988 summer Olympics took place in Seoul.