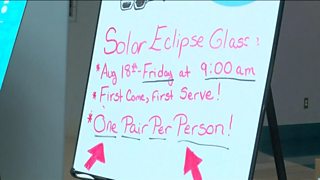 Americans rush to buy eclipse glasses
People across America are preparing to see the total solar eclipse on Monday that will be visible across 14 states.
It's caused a huge surge of people trying to get their hands on special protective eclipse glasses.
There are also big traffic jams in the state of Oregon, which is one of the first states where the eclipse will be visible.
The rare event of the moon passing directly in front of the sun is due to happen on 21 August.