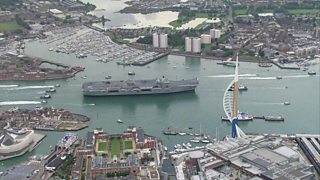 HMS Queen Elizabeth arrives in Portsmouth
The largest warship ever built for the Royal Navy has arrived at its new home in Portsmouth this morning.
The aircraft carrier called HMS Queen Elizabeth, cost three billion pounds to make and weighs 65,000 tonnes.
It set sail from Rosyth dockyard in Fife, where it was built, and has been carrying out sea trials since June.
The warship won't have any aircraft on board just yet though, but flying trials are due to begin next year.