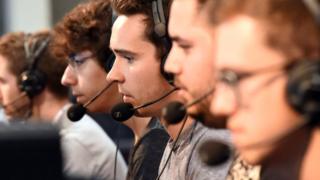 Getty Images
Video gamers could be competing in the 2024 Olympic games in France.
The Paris bid team will be talking to eSports and the International Olympic Committee (IOC) about the possibility of gaming joining the 2024 program.
ESports events have been very popular and drawing large crowds for a few years.
It will also be included in the 2022 Asian Games.
Tony Estanguet, co-president of the Paris Olympic bid committee believes that gaming should be considered so that more young people will get involved
320 million people watch videogame matches all over the world.
Estanguet told The Associated Press "The youth, yes they are interested in eSport and this kind of thing. Let's look at it. Let's meet them. Let's try if we can find some bridges."
The 2024 program will start in 2019 with a final decision on the addition of eSports in Paris to be taken by the IOC after the 2020 Tokyo Olympics.
The IOC will have the last say on eSports.
New sports that have been selected for the 2020 Olympic Games include Karate, Surfing and Bowling.