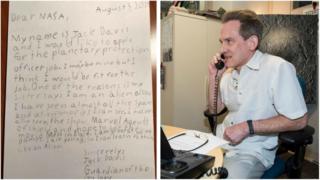 NASA
Jack might not even be ten years old yet but that didn't stop him applying for a top new NASA job of planet protector.
Describing himself as a "Guardian of the Galaxy" Jack grabbed Nasa's attention with his application which listed his various skills.
Jack described himself as "great at video games".
He also said because he was young, he could "learn to think like an alien".
It sounds like Jack has been researching the role as he mentioned he had "seen almost all the space and alien movies I can see".
The director of Planetary Science Division, Dr Green, sent Jack a letter back congratulating him and giving him a little bit more info on the job.
While Nasa didn't offer Jack the job, Dr Green said: "We are always looking for bright future scientists and engineers to help us, so I hope you will study hard and do well in school......We hope to see you here at Nasa one of these days."