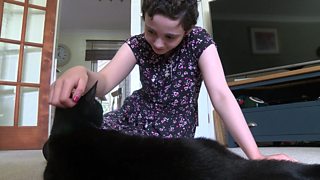 Meet Genie the award winning cat
When Evie got ill with bone cancer it was a really scary time for her and her family.
But Evie had a feline friend to help her out and support her, Genie, her cat.
Genie was an outdoor cat who liked to keep herself to herself but when Evie got sick she started to stay near her more.
Having Genie there all the time to hang out with and support her really helped Evie.
Genie's story has just won her two very special awards, 'Cat of the Year' and 'Outstanding Rescue Cat' as well.
Evie has now finished her treatment but is still being monitored by the hospital and genie is keeping an eye on her too.