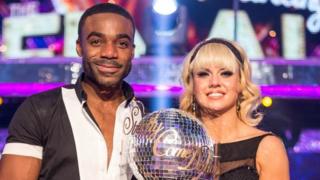 Are you looking forward to the return of sequins, samba, and shimmying?
Well thankfully you don't have to wait for too much longer for Strictly to be back.
The first set of stars for this years competition - series 15! - will be announced on Monday.
We want to know who you'd like to see step in to the Strictly ballroom.
This chat page is now closed, thanks for your comments
Comments;
I want hacker t dog because he is funny and fire cute and can dance very well.
Jahed, 12, Luton
I would love to see JK Rowling on Strictly as she has an amazing imagination which would help her create a wonderful dance! All the Harry Potter cast would be wonderful!
Alara, London
I would love Emma Watson to be on Strictly, because I think she would be good at dancing and I love all things Harry Potter!
Grace, 10, Ormskirk
This year I am wanting Harry Hill on the show because I think he is quick witted and funny.
Barny, 10, Manchester
I would like to see Lauren from CBBC HQ on strictly come dancing.
Lauren, 9, Essex