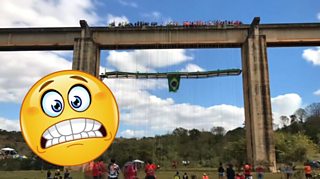 World record attempt at dining high in the sky
A group of Brazilians took a national pastime to dizzying heights as they looked to set a new world record for the largest number of people seated at a dinner table suspended high in the sky
The attempt took place in Sao Paulo in Brazil off an abandoned bridge some 28 metres (91 feet) high.
A large table was hung off the bridge about 20 metres (65 feet) above the ground, complete with its own grilling station to feed the 102 abseilers rappelling down to eat a Brazilian barbecue.
Whitney has been finding out more...