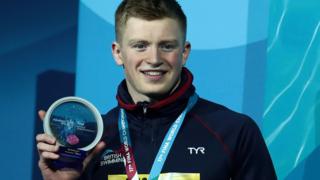 FERENC ISZA/AFP/Getty Images
British swimmer Adam Peaty is visiting Newsround and we asked you to send in your questions for him!
At the Swimming World Championships in Budapest, Hungary, he broke his own world record. Twice.
And he's the first swimmer in the world to swim 50m breaststroke in under 26 seconds.
Thank you for your questions, this page is now closed.

Are you interested in what it takes to become a world-record breaker?

Do you want to know how Adam keeps his cool before a race?

Or would you rather find out what he likes to do with his time off.
You must ask your parent, teacher or guardian for permission before you send us a comment.
We may show your comment on our website or in our TV bulletins. We'll show your first name and which town you're from - but we won't use your details for anything else.