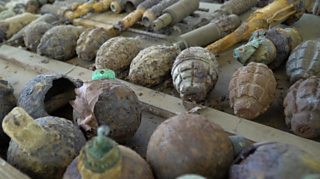 How do you make WW1 battlefields safe again?
Half a million German, British and Allied soldiers were wounded or killed on the battlefield and trenches surrounding the town in battle that lasted more than three months.
Whilst the fighting ended a long time ago, people still regularly find unexploded bombs, bullets and grenades in the fields and farmland.
Watch Ricky's report to find out what's being done to make the area safe again.