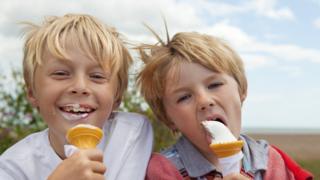 Getty Images
The summer has arrived!
Lots of schools have now broken up for the summer holidays - so that means a few weeks of fun!
We want to know what you've got planned for the holidays - will you be seeing a film at the cinema or trying to read as many funny story books as you can?
Perhaps you're going on a holiday or plan to build a den in your garden with your friends or family?

This chat is now closed, here is a selection of your comments.
Comments
I am going to Aldeburgh for 7 weeks
Sasha
I'm going to loads of camps then to Los Angeles! I'm so excited!!!!!
Eliza, London
I am going to London zoo and also going to the London tower to see the crown jewels.
Thomas
I'm going to Deerpark Forest in Cornwall. It is very fun! I went there last summer. There's even a duck race.
Nikita
Over the summer I am going to travel all over the country competing in canoe slalom!
Isobel, Staffordshire
I'm going to see Despicable Me 3 on Sunday with my mates.
Joseph, 14, Northamptonshire
In the summer holidays I am going to Tenerife. I am going with all my family. I am most looking forward to going on the beach because then I can play cricket.
Harry, 7, Wokingham