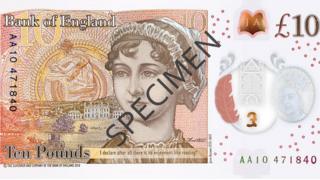 BANK OF ENGLAND
The new £10 note made on thin plastic called polymer has been released into circulation.
The Bank of England said one billion polymer £10 notes have been printed and will be in general circulation in the coming weeks and months.
It is the first Bank of England note to include a feature to help people who have problems with their vision. The note has a series of raised dots in the top left-hand corner to help people identify it.
The existing paper £10 note, will still be accepted in shops until Spring 2018, and the exact date of withdrawal will be made known three months in advance.
Why does it feature Jane Austen?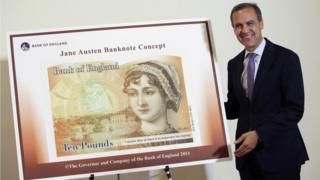 Getty Images
The £10 note features a portrait of the author Jane Austen who is known for novels such as Pride and Prejudice.
The note is being launched on the day of the 200th anniversary of her death.
It is the only English banknote to feature a woman, other than the Queen.
What is polymer?
Polymer banknotes are made from a very thin, flexible, see-through plastic film, with the design printed on special layers of ink on the front and back.
Because the main material is see-through, the design can include clear spots that are like little windows you can look straight through.
More than 20 countries around the world use polymer banknotes - they include Scotland, Australia, New Zealand and Canada.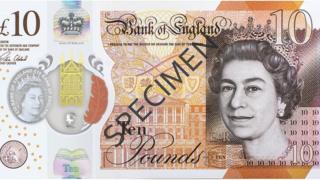 BANK OF ENGLAND
Why is polymer better than paper?
The Bank of England says that polymer banknotes are better than paper, because they are:
Cleaner: Shiny plastic doesn't get wet and dirty like paper.
More secure: Features like the see-through windows are difficult to copy, so it's harder for criminals to make fake notes.
Longer lasting: Plastic won't tear as easily as paper, so the notes should last longer.
They're even expected to survive if they accidentally go in the washing machine, although they'd melt under extreme heat.