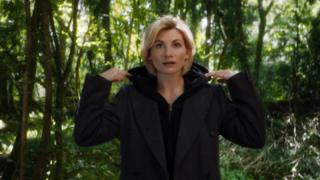 There was big news for Doctor Who fans last night, as the thirteenth Doctor was announced!
Jodie Whittaker will be the new Doctor taking control of the TARDIS and fighting to save the world.
She will be the first woman to take the role of the Doctor.
Peter Capaldi bowed out of the role in an explosive finale at the end of the last series, and the new Doctor will take over in the Christmas special when the Time Lord regenerates.
The new series promises to be very different, and we want to know what you guys think of the new Doctor...

This page is now closed. Thanks for your comments.
Comments
I think it will be really interesting to have a female doctor - I hope Missy stays the same so that they are both women!
Maddie, 12, Bath
I don't think anyone can replace Peter Capaldi.
Cerys, 11, Abergele
I don't like the new doctor. She has broken the tradition after all of these years.
Jake, 11, Lancashire