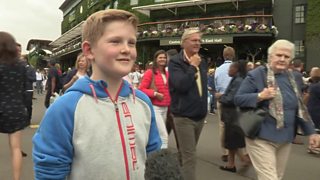 Who will win the men's final?
The Wimbledon men's final takes place later today, and it's set to be a closely fought contest.
Roger Federer will be aiming to become the first man to win eight Wimbledon titles and the Swiss is in top form.
But, Croatian Marin Cilic will be feeling confident too after surprising many people by making it to the final.
But what do you guys think? We've been speaking to some big tennis fans at Wimbledon to find out their predictions ahead of the big match.
Take a look above.