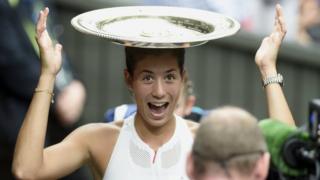 EPA
Garbine Muguruza said it was "amazing" to beat "role model" Venus Williams in the Wimbledon final.
Muguruza, from Spain, won in straight sets 7-5 6-0. We've taken a look at the big numbers involved in her win...
1
It's Muguruza's first Wimbledon title. Venus has won it five times before!

Muguruza lost her only other Wimbledon final to Venus' sister Serena Williams back in 2015.
2
It's Muguruza's second grand slam title. She won the French Open in 2016 but had failed to reach a final in the 23 tournaments after that win. Wimbledon is a pretty good way to break that run!

Muguruza won in two sets, but the first set was very close - Venus had two break points against Muguruza at 5-4.

Muguruza is only the second Spanish woman to win the Wimbledon singles title. Her coach, Conchita Martinez, was the other in 1994.
4
Williams dropped serve four times, while Muguruza held throughout the match. Muguruza did not drop serve in her quarter-final or semi-final wins either.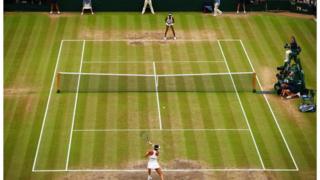 Getty Images
5
Muguruza will climb from 15th to fifth in the new world rankings on Monday.
6
Muguruza's mum is from Venezuela and her dad is from Spain. She was born in Venezuela but moved to Spain when she was six and has dual nationality, but chose to play for Spain in tennis.
9
From 5-4 behind in the first set, Muguruza won nine straight games to take the title.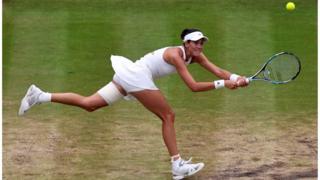 PA
14
At 23, Muguruza is 14 years younger than Venus Williams, who is 37. When she was growing up her favourite players were Serena Williams and Pete Sampras.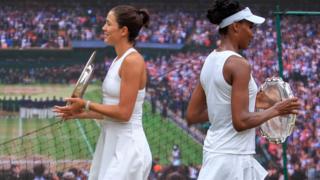 PA
26
The second set sped by in just 26 minutes, and Williams won only 12 points. In all, the match lasted an hour and 17 minutes.
114
Williams had the fastest serve at 114mph, but Muguruza's 77% win rate on her first serve was huge. It was her success on her serve that powered her to the Wimbledon trophy.