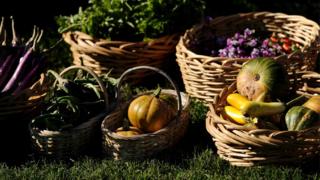 Getty Images
Kids at a school in London have been enjoying a new type of playground, one that you can eat!
Playgrounds like these are used to help you learn more about how to eat healthily.
This school has created a vegetable garden that pupils look after to grow their own food.
It's becoming more common all over the UK so that got us thinking, what do you grow at school?

Do you grow fruit and veg at school?

What do you grow?

Do you think this project is a good idea?
This chat is now closed, here are some of your comments:
At our school each year group has their own allotment. We are in Year 5. So far this year, we have grown potatoes, onions, strawberries and many more things. We used the potatoes to make food for our restaurant, which we invited our parents to. They loved it! And we love growing them.
5AP, age Your age: 10, Ipswich, Chantry
We have six fluffy, cute and adorable chickens. We keep the chickens in a cage and in a small garden. Every year group takes it in turns to look after them. Every day we feed and water the chickens carefully. The chickens are a good thing because they help us to learn, and they produce eggs. We have cooked with the eggs they lay. We made some cakes recently. We have also sold them so parents and teachers can make pancakes. We like the chickens because they help us work together.
HB 6, Milton Keynes
I grew a pea plant at school and then brought it home to look after it. At school we are also growing sunflowers and we are growing some tomatoes in the back garden. My class made a play at school and it was called 'There's a Sunflower in my Supper' all about food and growing things to eat.
Kai, 6, Sheffield
Our year two teacher loves to teach us about growing plants and has been running gardening club for many years. Our favourite plants to grow are strawberries and blackberries.
Charlotte and Emily, Hertfordshire